Investment Thesis
Canadian Natural Resources Limited (NYSE:CNQ) has seen its share price fall nearly 10% since its Q4 2022 results were announced earlier in March. This selloff has coincided with the recent weakness in oil prices.
Meanwhile, on a positive note, CNQ now declares that it will be in a position to increase its capital allocation policy to 80% to 100% of free cash flows by the time it reaches CAD$10 billion of net debt, rather than $8 billion of net debt.
That means that its dividend payout could increase yet again from CAD$0.90 per quarter.
Natural Gas isn't the Main Driver
Contrary to what some analysts have commented on Seeking Alpha, CNQ's natural gas exposure is less than 30%.
That means that, yes, CNQ does have material exposure to natural gas, but what's truly driving its medium-term opportunity are oil prices.
Case in point, this is what CNQ stated on the earnings call,
In 2022, approximately 44% of our BOEs, light crude oil and SCO; 29% heavy oil and 27% natural gas, which lessens our exposure to the volatility in any one commodity as we move through 2023.
This is both blessing and a curse. It's a blessing because oil prices are still strong. And I would venture to contend that, with anything above $70 WTI, good things can happen for CNQ's shareholders.
As you can see above, CNQ has an in situ oil sands breakeven price of less than $45 WTI, meaning that between $70 WTI and higher, CNQ shareholders will likely be agreeably rewarded.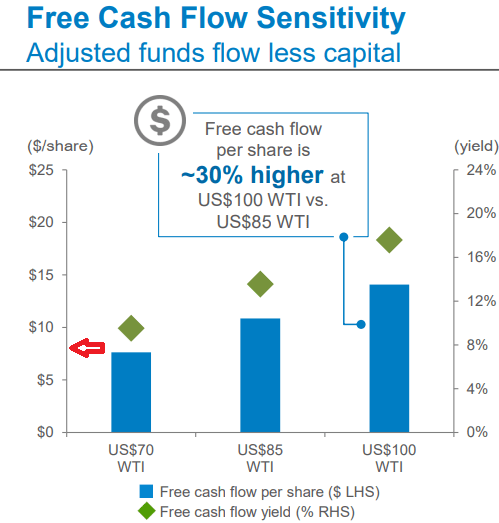 The figure above gives investors a very rough estimate of CNQ's sensitivities. Essentially, right now, investors are looking to get somewhere in the ballpark of CAD$6 to CAD$9 per share.
This puts the stock priced at approximately 6x forward free cash flow, a figure that is slightly higher than other oil sand operators. But at the same time, there are two supporting arguments for this premium valuation.
The first one, as we've discussed, CNQ has a very low breakeven WTI price.
The second consideration is that CNQ is fully focused on reaching dividend aristocracy.
Meaning that CNQ will do everything in its power to continue its significant dividend payout.
The Coveted CAD$10 billion Net Debt Target
CNQ exited Q4 2022 with net debt of CAD$10.5 billion. Given that CNQ declared that it will return 100% of free cash flow when it reaches $10 billion net debt, this would have led many investors to believe that CNQ would probably start returning 100% of its free cash flow in Q1 2023.
And on that note, this is what management stated on the earnings call:
Based on strip prices today and taking into account the final 2022 tax installment in Q1, capital profile and our current shareholder return framework, including dividends and a significant share buyback program, we target to reach the $10 billion net debt level late this year.
To repeat, CNQ believes that it will only reach its net debt target of $10 billion late this year. With analysts seeking clarification on the call, CNQ made the case that $2 billion worth of taxes in Q1 2023 would be partially responsible for the delay in reaching CAD$10 billion when CNQ would ramp up its free cash flow returns.
Is This the End of the Story?
To be clear, CNQ "still" offers approximately 6.6% dividend yield, on its CAD$0.90 dividend per quarter per share.
Plus, more likely than not, before 2023 is out, this dividend yield will increase further, when CNQ is likely to be in a position to ramp up its allocation policy.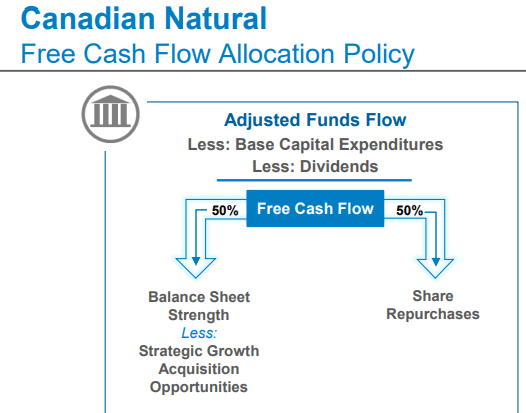 The Bottom Line
To sum up the investment thesis, Canadian Natural Resources has a very attractive dividend base of 6.6% and growing each year.
Furthermore, there were significant expectations baked into the share price that CNQ would be in a position to ramp up its capital allocation policy earlier in 2023. But through a weakness in the oil market, plus a large tax payout, its coveted CAD$10 billion net debt target has been pushed back slightly.
Altogether, this is a very rewarding investment with two avenues to increase shareholder returns, either through WTI price strengthening or through time, as CNQ ultimately reaches its net debt target.