Investment Thesis
GitLab (NASDAQ:GTLB) was a high-profile IPO back in 2021, raising over $800 million at a valuation of $11 billion. However, the company's share price has slumped over 60% since going public due to rising rates, soaring inflation, and risk-off sentiment. GitLab operates in the large and fast-growing DevSecOps (development, security, and operations) space that continues to gain strong traction thanks to digital transformation. This is reflected in its latest earnings as revenue growth remains robust. However, the bottom line and guidance are a huge problem. The company's operating loss continues to widen with no profitability in sight, while guidance indicates a significant slowdown in growth due to macro headwinds. Its current valuation is also near the highest among the high-growth SaaS (subscription as a service) space. Therefore, I rate GitLab stock as a sell.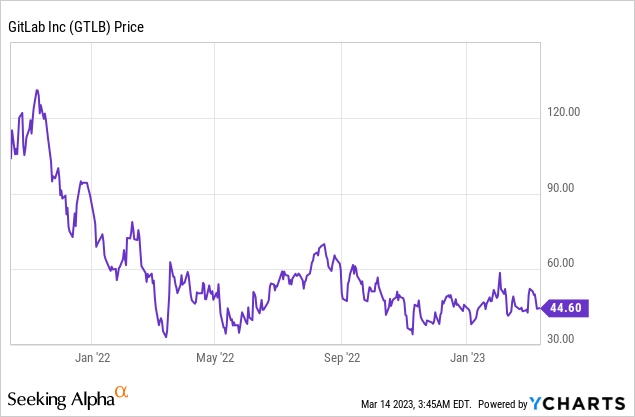 Why GitLab?
GitLab is an all-in-one DevSecOps platform that provides tools to help teams collaborate and build software. It covers the whole software delivery process from planning, creating, monitoring, to governing. From the chart below, you can see that the company offers multiple tools across the whole delivery lifecycle. Its platform offers multiple benefits. It allows better collaboration as it unites developer, security, and ops teams in one workflow. This also translates to faster software delivery time as changes can be done quicker. It also gives teams better insight into the whole software delivery process. According to the company, it delivers an ROI of 427% with a payback period of fewer than 6 months. GitLab is currently used by blue-chip customers such as NVIDIA (NVDA), T-Mobile (TMUS), and Lockheed Martin (LMT).
Sid Sijbrandij, CEO, on the shift to DevSecOps
Every company needs to be great at developing, securing and operating software or they will be disrupted. They're increasingly turning to DevSecOps as a central pillar of their software innovation strategy. We see a shift from a legacy approach where IT managers stitch together a patchwork of homegrown and third-party tools. While some of these tools may be best-in-class, the market is clearly moving away from point solutions towards a single application, a platform for the entire software delivery lifecycle.
According to Grand View Research, the TAM of DevSecOps is expected to grow from just $3.79 billion in 2021 to $17.24 billion in 2028, representing a CAGR (compounded annual growth rate) of 24.1%. GitLab themselves are even more optimistic and estimates its TAM to be $40 billion. There are multiple catalysts driving the expansion which include higher demand for faster software delivery, increasing need for security, and consolidation of toolchains. According to GitLab, 69% of companies want to consolidate their toolchains.
Q4 Earnings
GitLab's latest earnings results continue to demonstrate exponential growth, but the loss is widening and guidance is also weak. I do not think this growth-at-all-cost strategy will be sustainable in the long run.
The company reported revenue of $122.9 million, up 58% YoY (year over year) compared to $77.8 million. Gross profit was up 58.5% YoY from $68.6 million to $108.7 million, while the gross margin remained flat at 88%. Revenue growth was driven by a strong increase in new customers and higher spending from existing customers. Customers with more than $100,000 in ARR (annual recurring revenue) were up 42% from 492 to 697. While customers with an ARR of at least $5,000 increased 52% from 4,593 to 7,002. The dollar-based net retention rate for the quarter was 133%, as customers continue to adopt more products or shift to higher tiers.
The top line was strong but the bottom line continued to struggle. Despite revenue being up 58%, the net loss showed no improvement. Operating expenses were $154.9 million compared to $109.2 million, up 41.8% YoY. S&M (sales and marketing) expenses were up 42.5% from $57.2 million to $81.5 million. R&D (research and development) expenses were up 52.8% from $28.6 million to $43.7 million. S&M expenses alone accounted for 66.3% of revenue. This resulted in the operating loss further widening by 14% from $(40.6) million to $(46.3) million, or (37.7)% of revenue.
The guidance for FY24 was also extremely weak. It expects revenue to be between $529 million to $533 million, substantially lower than the $587 million consensus. This represents a growth of just 25.1% at the midpoint which indicate a massive deceleration from the prior year. I do not like the results as profitability is trending in the wrong direction while guidance indicates slowing growth. I hope the management team will have more discipline on spending and show some operating leverage in the coming quarters.
Investors Takeaway
GitLab has great products and the DevSecOps industry should continue to expand rapidly due to the increasing need for a fast pace of innovation and operational efficiencies. However, profitability and valuation are two huge issues. The operating loss continues to worsen and no operating leverage is being shown. The company is reporting exponential growth rates but this is only because it keeps increasing the spending on S&M and R&D.
The current valuation is also very expensive. It is trading at an fwd EV/sales ratio of 9.8x which is higher than most high-growth SaaS companies (I am using the EV/sales ratio as the company is not profitable). For instance, CrowdStrike (CRWD) and BILL (BILL) are trading at an fwd EV/sales ratio of 8.9x and 6.9x respectively, and are much closer to profitability. I don't believe Gitlab is worth the premium as the guidance also indicates a significant slowdown in growth. It will be risky to own GitLab as we may see a downward revision in multiples toward peers' levels. I rate the company as a sell.