Investment thesis
Noodles & Company (NASDAQ:NDLS) has aroused much frustration in recent years among investors, and proof of it is in the current price of shares. Declining margins due to underperforming restaurants since 2014 and subsequent closures from 2017 have caused enormous damage to the company's balance sheet, including rising debt and share dilution.
When it seemed that margins were beginning to stabilize in 2019, the coronavirus pandemic outbreak took place, causing a significant impact on revenue in 2020, and, more recently, inflationary pressures are once again causing a squeeze in profit margins amidst new restaurant openings, which is causing serious doubts among investors about whether these restaurants will deliver positive cash flows and whether it will really be possible for the company to deliver positive and stable returns over time.
Overall, I view the potential for Noodles & Company as very high given evident pessimism among investors and recent improvements in revenues and profit margins, but there are also serious risks of margins remaining depressed if inflationary pressures persist for longer than expected. Also, we must take into account the current risks of recession as a consequence of interest rate hikes, because if a (more or less) deep recession materializes, expansion plans through new openings could be derailed as the balance sheet is in a weak condition.
A brief overview of the company
Noodles & Company is a fast-casual pasta restaurant chain offering lunch and dinner with a wide range of options, including mac & cheese, pasta, noodles, Asian noodles, zoodles, salads, soups, shareables, kids' meals, and desserts. The company was founded in 1995 when its first location was inaugurated in Denver, Colorado, and its market cap currently stands at $241 million, employing over 8,000 workers across the United States. 7.04% of the total number of shares outstanding are owned by insiders, which means the management is a direct beneficiary of the positive performance of the company's share prices.

After massive openings in 2014, 2015, and 2016, the company closed 55 underperforming restaurants in 2017 as profit margins began to plummet as a result of underperformance at several of its restaurants. The closure of locations lasted until 2021, although in a much more gradual way.
| | | | | | | | | | |
| --- | --- | --- | --- | --- | --- | --- | --- | --- | --- |
| Year | 2014 | 2015 | 2016 | 2017 | 2018 | 2019 | 2020 | 2021 | 2022 |
| Total restaurants operated | 439 | 492 | 532 | 478 | 459 | 457 | 454 | 448 | 461 |
In 2022, the total number of restaurants operated by Noodles & Company increased by 13, and thus the trend has been reversed. The trend keeps going on as three new restaurants have been inaugurated during the first quarter of 2023, and seven more are expected during the second quarter. In all of its restaurants, the company usually keeps its menu updated in order to adapt to consumers' habits. For example, it launched 7 new dishes at $7 each as inflation-friendly options in July 2022 and launched Impossible Chicken, a plant-based protein option made by Impossible Foods (IMPF), in October of the same year.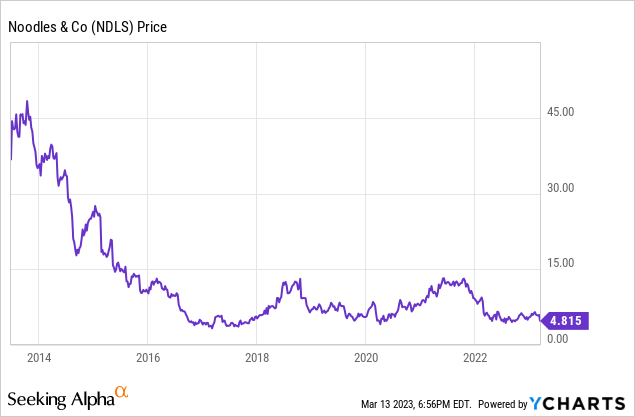 Currently, the Noodles & Company share price stands at $4.82, which represents a 90.01% decline from all-time highs of $48.30 on October 14, 2013, and a 64.39% decline from recent highs of $13.55 on June 24, 2021. Indeed, this is a very significant share price decline reflecting strong pessimism among investors caused by the damage caused by past underperformance on balance sheets, as well as current margin contraction caused by inflationary pressures and doubts about whether new restaurant openings will be successful (from a profit margin's perspective) amidst growing recessionary fears.
Revenue is expected to keep expanding at a fast pace
Noodles & Company achieved double-digit revenue growth in the 2012-2016 period, but after a decline of $6.35% in 2017 due to the closure of 55 underperforming restaurants, it remained stagnant until the coronavirus pandemic crisis in 2020, when restrictions caused a 14.87% decline compared to 2019. The company recovered from the coronavirus pandemic in 2021 as revenue increased by 20.70%, and achieved record revenue in 2022 thanks to a further increase of 7.22%.
Furthermore, revenue of $136.5 million during the fourth quarter of 2022 quarter represents an 18.88% increase year-over-year and a 5.49% increase quarter-over-quarter, which means the positive trend is apparently still going on. Plus, revenue is forecasted to grow by 7.5% to $547.57 million in 2023, and by another 10.8% to $606.98 million in 2024. But despite higher revenue in 2022 and optimist forecasts, the share price decline has caused a PS ratio decline to very low levels at 0.435, which means Noodles & Company is generating $2.30 for each dollar held in shares by investors, annually.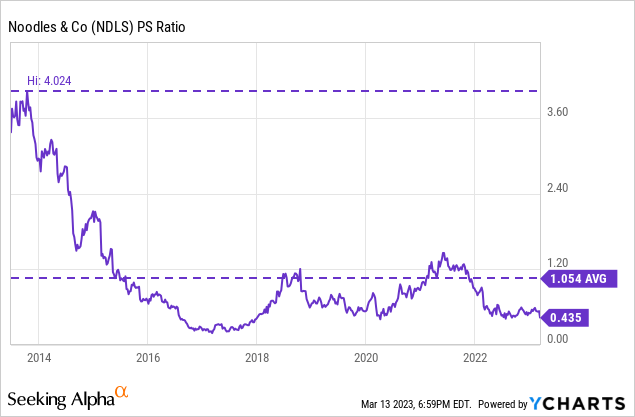 This ratio is 58.73% lower than the average of 1.054 for the past decade, and 89.19% lower than the peak of 4.024 reached in 2013, which deserves an explanation if we take into account that revenues are at record levels and are expected to continue increasing in the coming two years. In this sense, it is very important to look at the recent evolution of profit margins, which are being strongly affected by inflationary pressures.
Inflationary pressures are negatively impacting profit margins
Overall, Noodles & Company profit margins have fallen over the past decade as a result of underperformance in several of the company's locations. The closure of 55 restaurants in 2017 also caused a significant impact on profit margins in the short term, but lost margins of past years partially recovered by 2019.
Later, a reduction in revenues as a result of restrictions stemming from the coronavirus pandemic caused another hit to profit margins in 2020, and inflationary pressures are now hitting profit margins again (after a strong 2021) as the wage inflation was 11% year over year during the fourth quarter of 2022 and is expected to remain high (although more moderately) in 2023. In this sense, the trailing twelve months' gross profit margin currently stands at 15.73% while the EBITDA margin currently stands at 4.40%.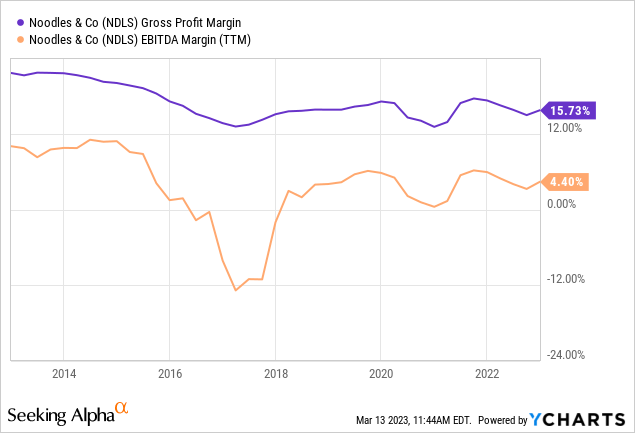 The good news is that the company's margins improved during the past quarter as gross profit margin reached 17.01% while EBITDA margins reached 5.71%, both representing a significant improvement compared to the current trailing twelve months' margins as wage inflation is moderating.
The company is currently simplifying and optimizing restaurant equipment while increasing its digital menu board usage in order to allow for quicker pricing action across all restaurants and has also signed fixed-cost contracts for 2023 for its boneless chicken breast, which represents 20% of overall food usage, at prices below those of 2022, and the management raised the price of its core menu by around 5% at the beginning of 2023 to offset inflationary pressures but doesn't expect to perform further raises in 2023 unless inflationary pressures continue impacting profit margins.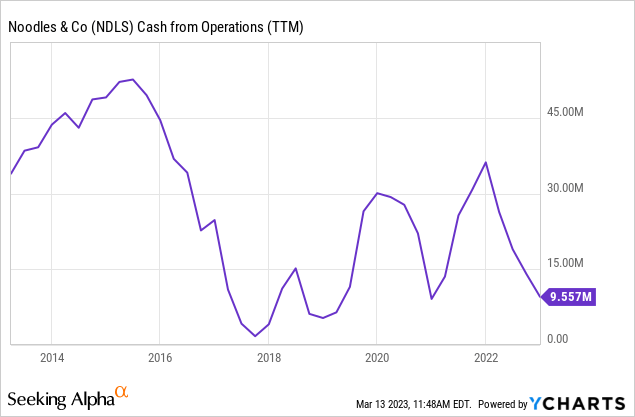 In this sense, it seems that profit margins are beginning to stabilize after a difficult year, but this has not been enough to recover the company's lost cash generation capacity since it reported cash from operations of $1.7 million in the last quarter while accounts receivable increased by $0.7 million and accounts payable declined by $0.3 million, which is why the increase in the prices of the menu at the beginning of the year was necessary. Furthermore, if inflation continues at high rates for a long time, further menu price increases would have to take place to offset further increases in labor costs (which accounted for 30.5% of total revenues in 2022). Also, long-lasting high inflation rates could put revenues at risk as the population is growingly worried about a potential recession in the foreseeable future due to recurrent interest rate hikes.
Debt is rising again as Noodles & Company is heavily investing in growth and efficiency initiatives
The company's debt levels increased to $90 million in the 2014-2017 period as capital expenditures were very high due to massive restaurant openings, and then declined to under $30 million by the end of 2021. To make this possible, Noodles & Company had to issue shares in 2017 and 2018, but cash from operations of over $30 million in 2019 and 2021, as well as lower capital expenditures in the 2018-2022 period, also allowed it to pay down a big portion of its debt pile.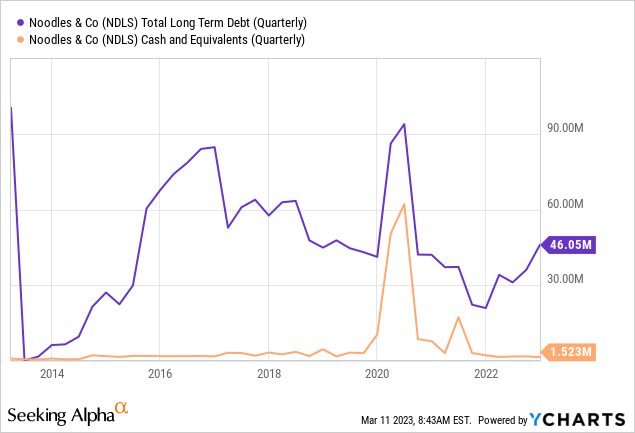 Despite this, the debt pile increased to $46 million in 2022 due to low cash from operations and higher capital expenditures. Even so, annual interest expenses of slightly over $2 million represent a relatively low percentage of cash from operations, which means that the debt load is not a significant risk for the company at this time.
| | | | | | | | | | |
| --- | --- | --- | --- | --- | --- | --- | --- | --- | --- |
| Year | 2014 | 2015 | 2016 | 2017 | 2018 | 2019 | 2020 | 2021 | 2022 |
| Cash from operations (in millions) | $49.03 | $44.51 | $24.74 | $4.10 | $5.35 | $30.06 | $9.12 | $36.17 | $9.56 |
| Interest expenses (in millions) | $0.37 | $1.43 | $2.92 | $3.84 | $4.31 | $2.94 | $3.15 | $2.08 | $2.45 |
| % of cash from operations used in interest expenses | 0.74% | 3.22% | 11.79% | 93.59% | 80.53% | 9.79% | 34.48% | 5.76% | 25.58% |
Therefore, the actual problem (apart from lower cash from operations due to inflationary pressures) is the recent increase in capital expenditures, which has broken the barrier of $20 million in 2022 (from $11.8 million in 2020 and $18.8 million in 2021) to stand at $34 million due to the openings of new restaurants that are taking place at the moment, as well as investments in digital menu boards to streamline customer orders and thus optimize restaurant operations and efficiency efforts to make kitchen tasks simpler. In this sense, Noodles & Company management expects capital expenditures for 2023 to be in the $53 million to $58 million range, which is a very sizable amount of cash that will most likely require to continue making use of debt throughout the year.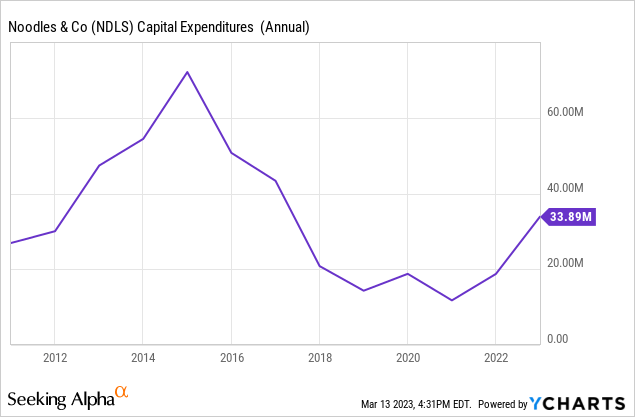 In short, there are these two factors that are currently preventing the share price from recovering part of what it lost since 2014 (and since the peak of $13.55 in June 2021): declining profit margins due to inflationary pressures, and higher capital expenditures in order to open new locations and implementing digital menu boards in the company's restaurants while optimizing kitchen tasks.
Certainly, higher capital expenditures are poised to improve the company's prospects in the long term as digital menu boards and efficiencies should slightly reduce the need for labor, which represents a significant amount of the cost of revenues, and new openings should allow at least part of the optimistic forecasts regarding the growth of revenues to come true in the next 2 years. Still, I consider the company's risk profile is high due to very low cash reserves of $1.5 million and past poor performance despite current efforts to improve revenues and margins.
Risks worth mentioning
All of Noodles & Company's operations are located within the United States, which makes them subject to economic conditions and consumer trends in the country. In this sense, a (more or less) deep recession could have a significant impact on the company's revenues and profit margins.
New restaurants that have opened during the fourth quarter of 2022 and those planned for 2023 are causing significant capital expenditures, which is increasing the company's debt load. If these restaurants don't turn out to be profitable, this would have a direct impact on profit margins, which would lead to strong damage to the company's balance sheet (more debt and share dilution) and great disappointment on the part of investors.
As long as inflation rates remain high, profit margins will most likely remain low, with which the company will need to continue making use of debt (or issue more shares) to face higher capital expenditures and maintain operations themselves.
The total number of shares outstanding increased by 50.30% in 2017 and by another 10.92% in 2018 as a consequence of capital raises for the restructuring of its restaurants as a result of the closure of the most underperforming restaurants, as well as debt reduction efforts. As of more recently, shares outstanding increased by 2.77% in 2020, by 0.77% in 2021, and by 0.73% in 2022.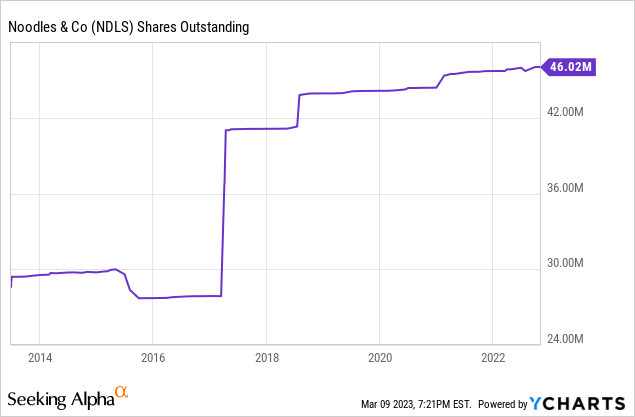 This means that each share is a smaller and smaller portion of the company. To avoid having to resort to share issuance again, the company's operations should be profitable enough to cover capital expenditures and interest expenses, which is not guaranteed due to poor past performance despite current efforts to turn the company around.
It is true that once the new openings are completed and the digital investments are finished, capital expenditures should stabilize at levels below current ones, but we must not forget that the company has encountered major obstacles to generating strong cash from operations over the years, which makes it very susceptible to headwinds. Thus I would recommend seeing Noodles & Company not as a long-term investment, but as a turnaround bet.
Conclusion
Noodles & Company is at a critical moment in its history, and the NDLS share price reflects high pessimism on the part of investors. Following the closures of the least profitable restaurants in the 2017-2021 period, the company has resumed opening new restaurants in 2022 and will continue to do so in 2023. Enough profitability in these restaurants, which is not it is guaranteed, is crucial to the company's future as capital expenditures are rising to very high levels, and this is one of the risks that investors must expose themselves to in exchange for the current deep discount on the price of its shares.
To offset the recent drop in profit margins due to inflationary pressures, Noodles & Company is currently simplifying restaurant tasks, raised its menu price at the beginning of 2023, and is implementing digital menu boards, which are intended to optimize restaurant operations by reducing the labor needed while implementing on-site marketing strategies. While it is true that the long-term debt has been reduced in the past few years, share dilution has been a real problem in the past, and strong growth and efficiency initiatives (new restaurants and digital boards) will likely shoot up long-term again and require more share issuances due to very high capital expenditures expected for 2023 (and beyond).
The future of Noodles & Company is certainly uncertain, so it is very difficult to assess what will happen next. If inflationary pressures ease and a recession ultimately fails to materialize, the potential return for shareholders is indeed high as the price-to-sales ratio is very low despite revenue growth forecasts due to investors' pessimism, but as high is the potential, so are the risks, so investors who decide to trust in a potential turnaround for Noodles & Company should have a high-risk tolerance.