Actor Simran, who was recently seen in the OTT family-drama movie 'Gulmohar'.
Many of us still remember Simran Rishi Bagga as that girl in a short pink dress, dancing to Aankh maare O ladka… opposite Arshad Warsi from Tere Mere Sapne (1996). Over the years, she has made a mark in the south Indian film industry and garnered not just a steadfast fandom through her innumerable performances, but also found critical appreciation for her work in VIP (1997), Once More (1997), Vaalee (1999), Priyamaanavale (2000), Parthen Rasithen (2000), Aal Thotta Boopathy (Youth, 2002), Mani Ratnam's Kannathil Muthammital (2002), among others.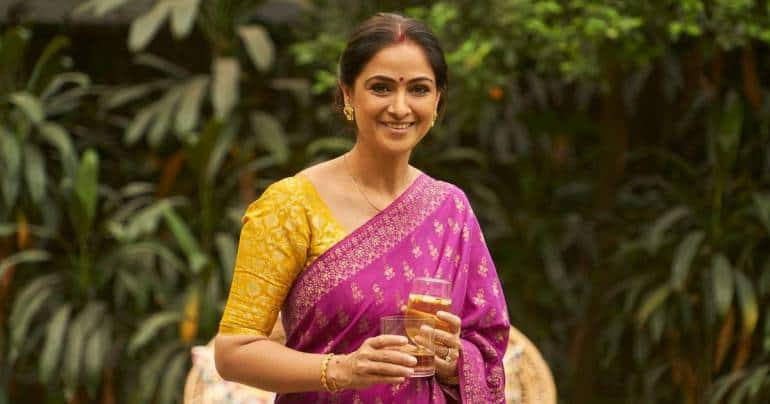 Simran in 'Gulmohar'
Recently, Simran made a comeback to Hindi films with Rahul V Chittella's Gulmohar on Disney+ Hotstar. The family drama has an eminent ensemble cast that includes Sharmila Tagore, Manoj Bajpayee, Amol Palekar and others. In an exclusive interview with Moneycontrol, the actress talks to us about her comeback, working with Mani Ratnam, positives of south Indian cinema, rise of OTT and more. Edited excerpts:
Rishi Bala Naval to Simran. Why?
Rishi Bala to Simran was meant to be. My friends from school, college and my teachers I am in touch with, thanks to social media, they still address me as Rishi Bala. Simran was born in 1994 when I stepped into this beautiful industry. So, both the names I respect, and I love. And they will be with me till the end.
How was it working in Gulmohar, the film marks your return to Hindi films, and what projects are you looking forward to now?
Gulmohar was a brilliant experience. To work with the whole team, the cast and crew — it was great. Yes, you can say that Gulmohar marks my return to Hindi films. I am looking forward to doing good work in Hindi. With OTT now there is an expansion in the flow of opportunities to showcase your talent. I am looking forward to projects that will give me work satisfaction. That is a must, and my role should be impactful and should be recognised by my audience. Yes, I am also reading scripts now.
What do you have to say about the phenomenal rise of the OTT space in the last few years?
Well, I believe that OTT is the game-changer for the industry. It has connected the world together. OTT has given a chance to all talents to showcase their work to the audience in different parts of the world and has proven that audiences are waiting to watch new content. It also awakened a creative person inside everyone. I feel OTT is doing wonders because it is taking cinema to audiences whereas earlier audiences used to go to cinema.
From TV's countdown music show Superhit Muqabla to Hindi films to south Indian films — tell us about your journey.
My journey has been very interesting in this field. It's great that I have crossed 25 years in just the blink of an eye. Such a huge body of work along with building my family — my sons are now 17 years old and 12 years old and I am still working, it feels good. I started from the small screen in the show Superhit Muqabla, then it was ABCL's Hindi movie Tere Mere Sapne. After this, I went to south Indian movies working with all the superstars to young talent, to newbie talents, to top TV shows, both fiction and non-fiction. I was fortunate to have worked with Sivaji Ganesan sir in my first Tamil movie to now working with Sharmila Tagore ma'am and Amol Palekar ji. I am still aiming for a beautiful, never-ending journey. And all this would not have been possible without the support of each and everyone I worked with. I thank them all. I thank God and I thank my parents.
You've been an actor for the last 25 years, from dancing to Aankh maare to a serious role in Gulmohar. Has the portrayal of women characters in cinema evolved over the years?
It's been more than 25 years working in the entertainment industry. I have seen women characters grow stronger on screen and also behind the scenes. It's the era when the younger generation has taken over where the previous generation has led the path for them to walk and make wise decisions.
It's all positive. I see that the due respect is always given to women. There is an understanding between men and women, nobody is above each other, they are equal. There are differences from earlier to these days and I feel that very versatile roles are written for women nowadays. The choice is up to her and what she wants to pick. There are so many beautiful women filmmakers, too, nowadays which is a great sign that shows that the industry is progressing in all dimensions.
Why didn't you stay back in the Hindi film industry in the '90s. And why the move to the south film industry?
Actually, the south industry found me. I wanted to do good and prominent work, good roles where I will be appreciated, respected, and accepted. I am a very simple person at heart, and I love direct approach. All this I found in the south, quite straight forward, back then and even now. In Hindi film industry, they had different styles of working which I never understood. There were limited production companies back then, now we have so many corporates working and it's become more straightforward and clear.
You have been a star in south Indian films for many years — what do you think are the biggest positives of south cinema?
In the south, planning and a simple approach towards cinema and making of a project is the key for their fame. They are organised, have super disciplined timelines, time management, unity, no ego, they are technically strong. They work from start to finish to reach their goal on time. I feel these are basic values and ethics towards life we all must imbibe. Respect is a give and take which is strongly followed by south Indians. Being humble, kind, caring, which all comes under a simple approach. Basically, there is zero show-off in the industry.
Tell us about working with Mani Ratnam in Kannathil Muthamittal.
It was a lovely experience working with Mani sir in Kannathil… He is a brilliant film maker no doubt about it. I have seen all the movies he has made so far and I love everything about his movies, right from stories to locations to clothes to the raw approach for make-up. His technicians are fantastic. Kannathil… is one of my favourite movies.