If I could I would!" is the maxim of tyrants."― Lamine Pearlheart
Today we look at a small high risk/high reward medical device concern with some potential upcoming catalysts. An analysis follows below.
Company Overview
Aziyo Biologics, Inc. (NASDAQ:AZYO) is a Silver Spring, Maryland based commercial-stage regenerative medicine concern focused on the development of healthy tissue formation products for patients undergoing medical device implants. The company currently has nine commercial offerings, which are marketed by a small, in-house direct sales team and other medical device concerns. Aziyo also sells human tissue products under contract manufacturing agreements. The company was formed in 2015 and went public in 2020, raising net proceeds of $43.0 million at $17 per share. Its stock trades just below four bucks a share, translating to a market cap of $70 million.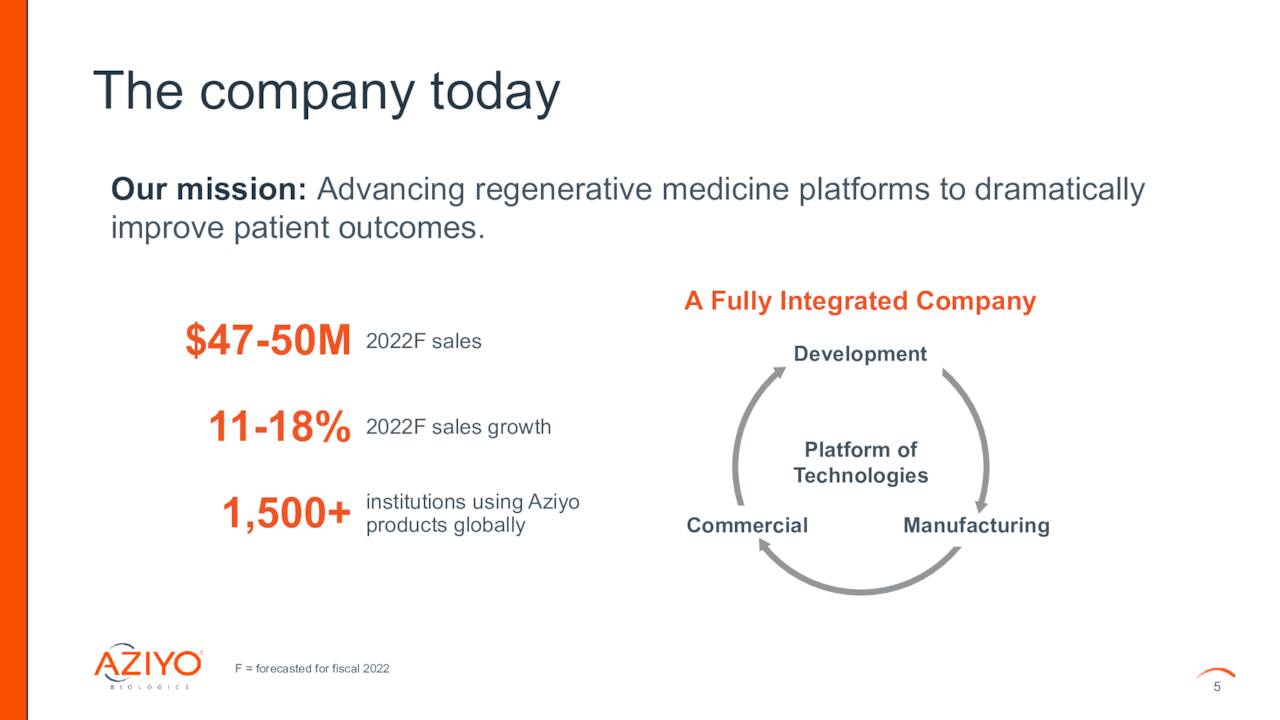 The company has two classes of stock. The 11.8 million shares of publicly traded Class A stock confer economic interest and one vote per share. The 4.3 million shares of privately held Class B stock bestow economic interest but no voting rights. Class B shares are convertible into Class A shares at any time, as long as that conversion does not increase beneficial ownership of the Class A stock above 4.9%.
Core Products
It can be argued that medical devices, such as pacemakers or prosthetics, have contributed far more to patient quality of life than the 20,000+ FDA-approved prescription medications. That said, they are not 100% effective. For example, pacemakers procedures have a 6% failure rate, although it is not a function of the device, which fails only 1.3 times in 1,000. Poor outcomes are primarily the result of the body's rejection of a foreign object inside itself, resulting in infection, erosion, or hematomas. One example of Aziyo's proficiency is its ability to reduce the body's rejection of a medical device by insulating it with biomaterial technology. The company's expertise also expands into bone regeneration and cell removal products.
Aziyo has offerings across four therapeutic categories: women's health; cardiac device protection; cardiovascular health; and orthobiologics.
In women's health, its core product is SimpliDerm, a human acellular dermal matrix designed to repair or replace damaged or insufficient integumental tissue as part of breast reconstruction following mastectomy. It competes in a $500 million market with the likes of AbbVie's (ABBV) AlloDerm and Strattice, Stryker's (SYK) DermACELL, MTF's FlexHD, and Integra's (IART) SurgiMend.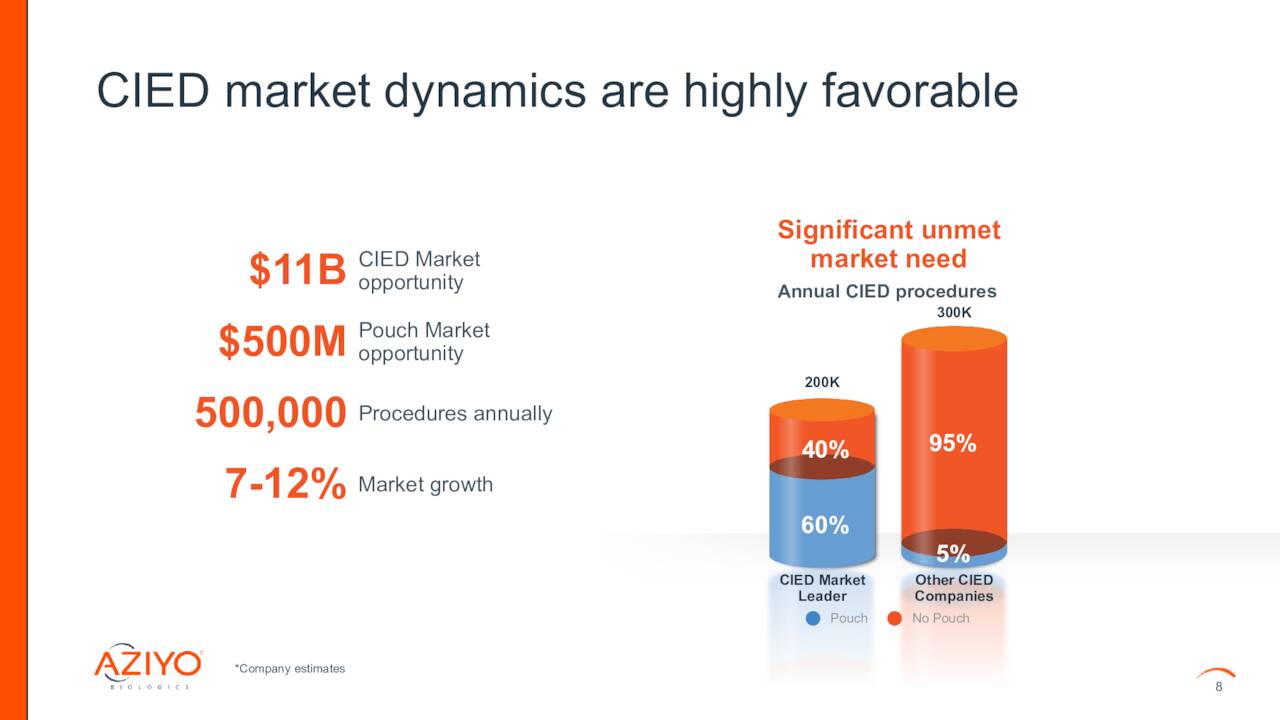 Cardiac device protection is provided by CanGaroo, a porcine-derived extracellular matrix (envelope) that orchestrates healing, promotes pacemaker and electronic defibrillator stabilization, and mitigates scar tissue. It competes in a $600 million market with Medtronic's (MDT) synthetic envelope TYRX. Aziyo is in the process of obtaining approval for a 2.0 version of this product, known as CanGaroo RM. It is essentially a CanGaroo sleeve that elutes antibiotics to prevent bacterial colonization and infection post-surgery.
Initially expected to be approved in 2H22, owing to concerns about shelf life, the FDA asked Aziyo for additional information regarding CanGaroo RM, which has extended its probable approval into 1Q23. If green-lighted, it will set the stage for a major commercial collaboration. CanGaroo 1.0 is currently sold by Boston Scientific (BSX), but management is confident in its ability to secure a deal with upfront cash when (and if) CanGaroo RM is approved.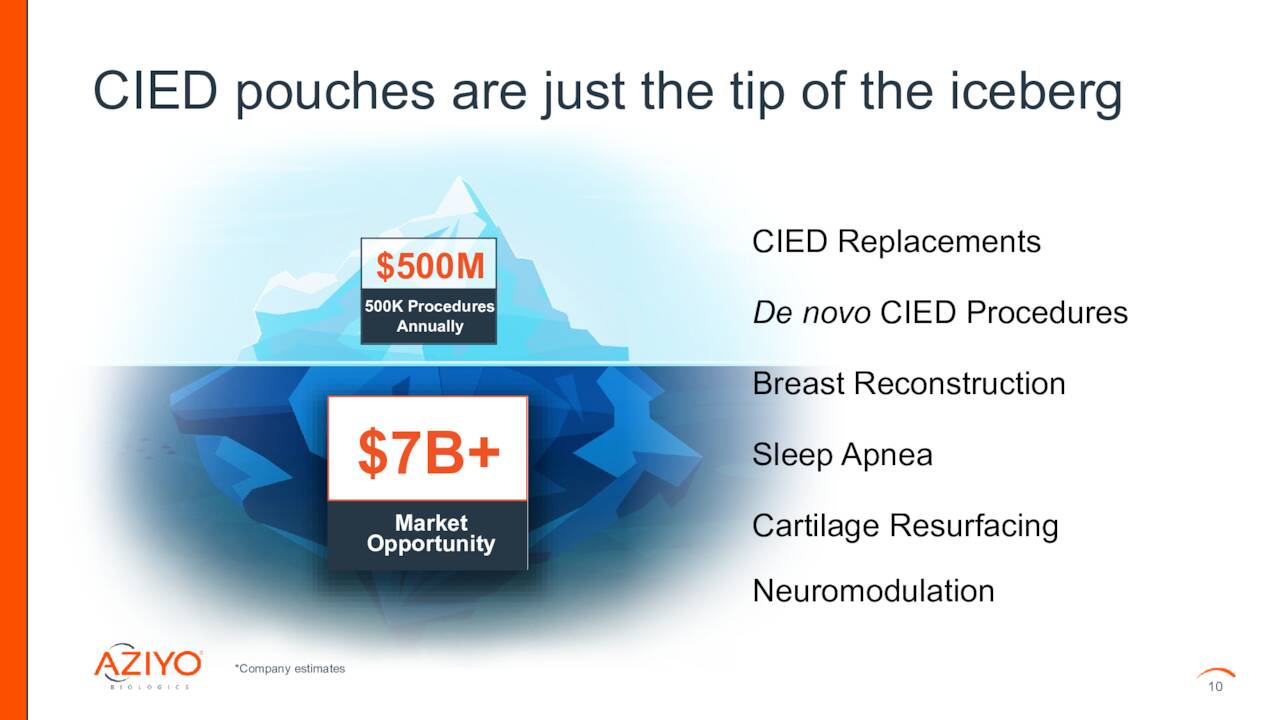 Furthermore, approval will spur the company to pursue an RM version of its SimpliDerm offering, as infection rates post reconstruction surgery are ~10%. The total market opportunity for this type of technology is estimated by management at $7 billion.
In cardiovascular health, Aziyo sells three products: ProxiCor; Tyke; and VasCure. ProxiCor is an intracardiac patch that acts a bio-scaffold to allow a patient's own cells to form a new pericardial layer. Tyke is a thinner extracellular matrix for pediatric applications. VasCure is a patch to repair or reconstruct the peripheral vasculature (i.e., blood vessels around the heart). All three of these offerings compete with bovine pericardium products from Gore Medical and Terumo (OTCPK:TRUMF), amongst others. Management describes this business as 'mature', but it provides significant (~80%) gross margin.
Orthobiologics includes ViBone, OsteGro V, and Fiber VBM. All three are essentially bone allografts that act as an alternative to autografts, where a patient's own tissue or bone material is harvested from one place in his or her body and grafted to another. As the pioneer in viable bone matrix products, Aziyo's know how is sold to orthopedic or spine concerns, who then develop the products. This B2B model should see a doubling in operating income FY23 versus FY22.
Management has indicated that it has received commercial collaboration or other types of transactional interest across all four therapeutic areas.
FiberCel Recall
However, it is the orthobiologics unit that spawned a drag on the company's stock. In June 2021, Aziyo voluntarily recalled its FiberCel Fiber Viable Bone Matrix, after it was discovered that a single donor lot (comprised of 154 units) was contaminated and ultimately responsible for 75 patients contracting tuberculosis or exhibiting tuberculosis-like infection. That said, many of the claims have been settled, and net of insurance reimbursement, it appears as if Aziyo will only be on the hook for ~$1.5 million. FiberCel is now repackaged as Fiber VBM.
Preliminary FY22 Sales
After posting a slightly better than expected top line in 3Q22, supported by 18% year-over-year growth from SimpliDerm and CanGaroo, the company lifted its FY22 revenue guidance slightly from $48.5 million to $49.0 million. That modification turned out to be prescient when Aziyo pre-announced 4Q22 and FY22 top line results on January 9, 2023, which suggested FY22 net revenue of $49.1 million. Nevertheless, Aziyo's top line represents only 4% improvement over FY21, as the full year impact of Medtronic dropping FiberCel distribution was felt. Actual 4Q22 and FY22 results will be forthcoming in early March.
Balance Sheet & Analyst Commentary
That said, the company's balance sheet was not in exemplary shape, reflecting cash of only $8.1 million and debt of $39.2 million. As such, it was compelled to conduct small equity and debt capital raises in December 2022 that provided net proceeds of $13.8 million and $4.1 million, respectively. These transactions should provide Aziyo a cash runway into 3Q23, by which time, given an approval for CanGaroo RM, it should receive additional cash from a global commercial collaboration. However, the deals cratered shares of AXYO 41%, although from an ownership interest perspective, it only diluted shareholders 17%.
Despite its precarious cash position and tiny market cap, the Street is wholly positive on the company, featuring one buy and three outperform ratings with an extremely optimistic median twelve-month price target of $10.25. On average, they expect Aziyo to generate a GAAP loss of $2.61 a share on revenue of $49 million in FY22, followed by a loss of $2.01 a share (GAAP) on revenue of $58.6 million in FY23, representing a 20% gain at the top line.
Verdict
One of the issues with Aziyo's stock is its trading volume. Since the onset of 2022, the stock has traded over 100,00 shares of volume exactly six times, which is approximately one-sixth of the time it traded under 1,000 shares. As such, the stock is subject to severe dislocations, like the one described above. Although it is not close to profitability, an approval for CanGaroo RM should propel the stock significantly higher. It will also validate its CanGaroo RM approach, which could open up a $7 billion market opportunity for antibiotic eluting pouches for breast reconstruction, sleep apnea, cartilage resurfacing, and neuromodulation.
This risk, of course, is another regulatory delay (or rejection). While too thinly traded and with another capital raise soon very likely, we can not consider AZYO for the model portfolio. However, the bet here is that CanGaroo RM will be approved and as such, a small 'watch item' position slowly accumulated for aggressive investors has merit.
Power is neither good nor evil. It just is. It's what people do with power that matters."― C.J. Redwine
Editor's Note: This article covers one or more microcap stocks. Please be aware of the risks associated with these stocks.