Singer Neeti Mohan. (Photo: Twitter)
Singer Neeti Mohan debuted in Bollywood with Vishal–Shekhar's Ishq Wala Love (Student of the Year, 2012) which went on to become a classic romantic track. And later, the same year, she bagged another hit with AR Rahman's Jiya Re (Jab Tak Hai Jaan). The decade that followed has been a good one for the singer. In 2015, came Anurag Kashyap's Bombay Velvet, Mohan's breakthrough as the voice for Anushka Sharma's jazz singer avatar, hitting all the right keys, from Mohabbat buri bimari to Jata kahan hai deewane and Dhadaam dhadaam. Last month, her song Meri Jaan in Sanjay Leela Bhansali's Gangubai Kathiawadi, 2022, won her the best singer award at the Dadasaheb Phalke International Film Festival Award in Mumbai (disclaimer: this is private award, not linked to the original and official Dadasaheb Phalke Award, which only awards in one category: lifetime achievement).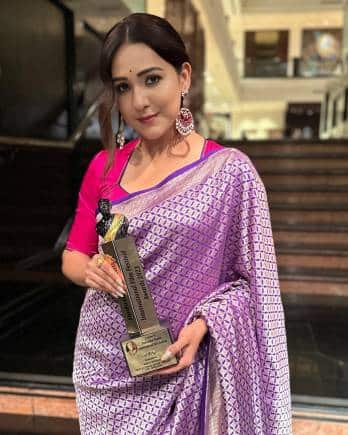 Singer Neeti Mohan with Dadasaheb Phalke International Film Festival Award for Best Singer for the song 'Meri jaan' from Sanjay Leela Bhansali's film 'Gangubai Kathiawadi' (2022), which she won last month. (Photo: Twitter)
In an interview to Moneycontrol, Mohan talks about her career, about Bollywood music and performing with her sisters as part of MSL (Mohan Sisters Live). Edited excerpts:
How does the win feel?
Receiving this honour is a huge feeling and a big thing for me. I feel extremely grateful to Sanjay Leela Bhansali sir for making me sing this song.
A decade of playback singing, how has the journey been for you?
It's been 10 years since I started my playback journey and right from Ishq Wala Love to Meri Jaan, it completes a decade for me in my career in playback singing. When I look back, it feels like such a fulfilling journey for me as a singer. There have been so many live concerts and so many television shows and so many music videos and songs and collaborations. It's been an enriching experience and I would not change this for anything.
What inspires you the most as a singer?  
I think hard work and dedication inspire me a lot. If I see that in someone's work that inspires me a lot, there are many artistes in our industry and all over the world who have inspired me.
What has been the most difficult song in your career?
Every song is challenging. Getting the first line of every song is the key, if you get that right the rest of the song is very easy. So for me, to get into the zone of a song, I think that is really important and challenging, once you nail that, then every song is easy.
What is your biggest complaint with the Hindi film-music industry?
I think we keep saying that old songs were much better, and today's music is not that great, but if you see, I think today's music is something which is a mix of everything. It is a mix of people who have an expression of their own, such as the new singers, songwriters, and at the same time, people who have trained in classical, people who are following the Indian traditional route, people who are folk singers. I feel, today, we are in a very empowering time when it comes to music, because everybody has the power to create music on their own and release it, and it's up to the audience to decide what they like. If you see the numbers last year of which songs were top five, they were all indie (independent) music and not really film music. So, as much as I love film music and I support original music, I also believe that equal opportunity is something that is a must. And that has started to happen now in the industry, so I don't have any more complaints.
You and your sisters have achieved much in the last few years. How has that journey been?
Well, it's nothing but a dream come true for all of us sisters, who started our journey standing in queues of reality TV shows, driving the distance from Delhi to Mumbai and charting our careers over here. Our parents have supported us wholeheartedly though all of this. I think, today, when we look back we feel like, wow, this has been so incredible. We wish the same to happen to a lot of girls who are dreaming about having a career in any field. We sisters feel strongly about this, we support women because we have seen a lot of the time they are not supported. I think when you give wings to women to fly, they surprise you with the heights they achieve! This is what I think Mohan-sisters are all about. We have just started performing together and it's called 'MSL: Mohan Sisters Live' and we are taking our live act, music and dancing all over the world now and we are very excited about it. We love working together!