Another captivating week is in the books in 2023. The market and economy continue to deliver compelling stories. Last week saw the collapse of SVB Financial Group (SIVB), and now First Republic Bank (FRC) and Credit Suisse (CS) are precarious – and just in time for the Federal Reserve to throw in its two cents.
We are indeed living in interesting times.
If you didn't catch my last article, I'd like to share a snippet because it's important and relevant to long-term investors:
If there is one thing we learn as investors, it is that something is always happening. In just the last three years, we have seen a terrible pandemic crash, record stimulus, clogged ports, workforce shortage, the Russian invasion of Ukraine, record inflation and dramatically rising interest rates, a European energy shock, the collapse of crypto exchange FTX…and that's just off the top of my head.

These seem hyper-important to our investments during the news cycle but fade as a new event takes over. Does anyone still think much of the "trade war" of 2018 or remember why oil jumped 20% in a single day in 2019?

Making short-term prognostications on stocks is fun, but it's mostly a silly endeavor. Trading on short-term news would churn our portfolios to death and have our minds spinning like tops.
I can't predict what the market will do in the next week or month; I don't even try anymore. I'll continue to look for excellent companies that make compelling long-term opportunities. This market provides plenty of them.
"You make most of your money in a bear market; you just don't realize it at the time." – Shelby Cullom Davis.
How Airbnb changed my mind
I've never covered Airbnb (NASDAQ:ABNB) before because neither the company nor the stock price impressed me. But Airbnb has done a fantastic job changing my mind over the past year or so.
Let's hit on my prior reasons not to buy and why I have had a change of heart below.
When the facts change, I change my mind. – John Keynes
Are there too many holes in the business model?
The largest hurdle to hosting is fear of damage.
We've all seen coverage of Airbnb horror stories. Whether it's renters arriving to find the place filthy and far from what was advertised or hosts who have had their homes destroyed by parties that got out of hand. But what was more disturbing were the reports of renters and hosts alike having real problems getting customer service from Airbnb.
This could never work. The constant hits to reputation alone would scare off enough renters and hosts, costing Airbnb oodles of potential profits. Instead of shrinking away, Airbnb has leaned into its role.
Airbnb has had protections in the form of Host Guarantee. Still, the introduction of AirCover, which automatically provides damage and liability insurance coverage for hosts and booking protections for guests, was a great move. It makes the protections more comprehensive and centralized. But the best part for investors is that it is much easier for Airbnb to market.
Supply must keep up with demand to maximize profits, and active listing increased 16% last year to 6.6 million (excluding China). Giving hosts peace of mind is a crucial part of this growth.
Expansion and technology
Airbnb is branching out into long-term apartment sublets and pushing Airbnb Experiences. This has tremendous potential for international travelers. Booking tours with a reputable and familiar name in a foreign country is comforting.
The company has also invested in its technology, introducing features that improve the entire process, such as flexible searching and upfront pricing.
There will always be anecdotal sagas and poor experiences – that's the nature of this business. But investing in these improvements makes a tremendous difference in the investment thesis.
The Airbnb business model is working.
Can Airbnb make substantial profits?
Tech companies like Amazon (AMZN) and Alphabet (GOOG)(GOOGL) are laying off workers due to the challenging economy, and their struggles are well documented.
Airbnb was forced to substantially reduce its headcount during COVID-19 while other tech companies went on hiring sprees. This seemed devastating then, but it has put it far ahead of the curve and made Airbnb lean, mean, and super profitable.
…on headcount, something that's really interesting happened. So obviously, in 2020, we had to make some really difficult decisions, and we became a much smaller and more focused company. And the obvious result of that is that we got more efficient and more profitable. But there was a less obvious result. What ended up happening is we had fewer people in meetings, and people can move a lot faster. And we concentrate all of our very best people and put them on only a few problems.

– Brian Chesky, Airbnb co-founder, and CEO.

…our headcount is actually still 5% below where it was in 2019, and the revenue is 75% higher. So we're nearly twice as big as we were previously with fewer people.

– David Stephenson, Airbnb CFO.
No one likes to see people lose jobs, and I am definitely not cheerleading layoffs. But Airbnb is a business, and running with optimal staffing is prudent.
Profitable growth
We need to go back to 2019 for a good comparison due to COVID-19. Airbnb's compound annual revenue growth (CAGR) since 2019 is over 20%, with sales up 75% over 2019.
The gross profit margin is up, and operating income and free cash flow have skyrocketed, as shown below.
This should continue with a gross margin over 80%, the company's commitment to running lean, and a stock buyback program that more than offsets the stock-based compensation (SBC).
Is Airbnb stock too expensive?
As a growth stock, Airbnb is only for some. It is most appropriate for long-term investors who can handle moderate volatility.
Airbnb stock is more than 45% down from its all-time high. It still trades higher than peer Booking Holdings (BKNG), as shown below.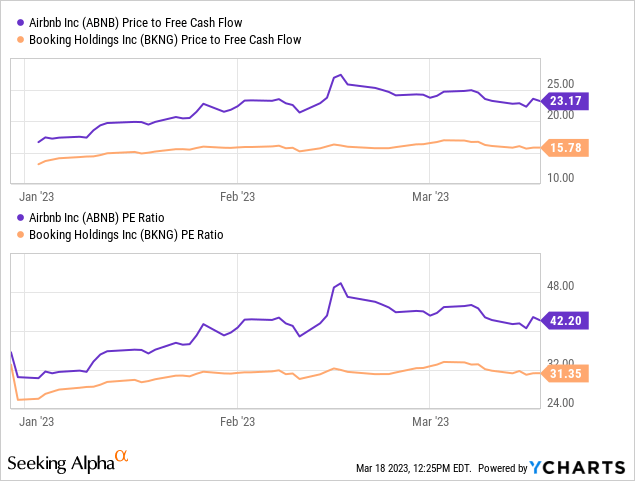 However, there is no ideal comparison to Airbnb. Booking Holdings has only increased revenue by 13% since 2019, compared to 75% for Airbnb. This justifies a higher valuation.
Airbnb's price-to-sales (P/S) ratio of 9, close to its lowest ever, isn't outrageous for a company with tremendous growth potential and a gross margin of over 80%.
Still, patience could be rewarded in this shaky market. Buying below $102 per share puts the forward P/E ratio under 30, based on consensus estimates. Although I have picked up a few shares recently, this is the level I will more aggressively average into a long-term position.