Credit Suisse stock (NYSE:CS) is set to tumble in Monday's trading session as UBS is close to signing an agreement to take over the company at a fraction of Monday's closing price. In this report, I will look at the implications for shareholders and I'm amending my rating from Sell to Strong Sell.
Credit Suisse Stock Has Not Delivered For Buyers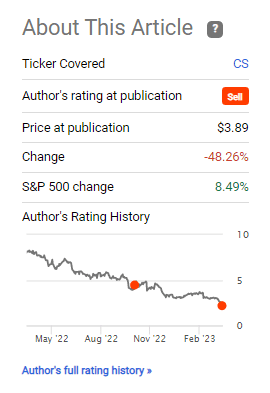 Since my first report on Credit Suisse, the stock has not delivered or at least not for buyers. Since my second report published a few days ago, the stock has lost another 7%. So, there have been buy ratings in recent days and months, but the reality is that none of those have paid off and they likely never will pay off.

If you leave contrarian believes aside and just look at the trend, Credit Suisse has been on a multi-year downtrend that shed 96.5% of its value. Looking at the trend and the way Credit Suisse has been dealing with things, I don't believe there ever was anything that would drive material upside for the company.
The Credit Suisse Crisis
The problems from Credit Suisse… they're not from today or yesterday. The company has been involved in a set of scandals that keep haunting the company. A non-exhaustive list includes the Malaysia Development Berhad scandal in 2015, a $10 billion involvement with Greensill Capital which collapsed in 2021 of which the majority was collected and $5.5 billion in losses linked to the collapse of Archegos Capital, also in 2021. These involvements are mostly reflected in the company's stock price.
Fellow contributor IP Banking Research explained why Credit Suisse did not see much improvement why other banks did, but it has everything to do with getting chased by the past and the primary focus of the investment banking operations which were not in favor of Credit Suisse. Beyond that, I do believe that what truly hurt Credit Suisse as a business but also as a stock is the fact that they always seemed one step too late. The attitude was reactive instead of proactive and we saw that over the past days as well as it responded to market concerns.
Why Is UBS Buying Credit Suisse?
At this point, I wouldn't say UBS is buying Credit Suisse. The Swiss government basically put both parties together to broker a deal, but it doesn't seem like UBS is extremely willing to buy the troubled lender. The company offered $1 billion while the market cap of Credit Suisse is $8 billion. With Credit Suisse one step behind on every occasion, I don't think they will be agreeing with this offer that will wipe out most of the stock price value that still remains after the recent meltdown. In fact, as I'm writing this it seems that Credit Suisse indeed has refused the offer according to Dutch media. However, if Credit Suisse is lucky they will get triple the amount which implies around 60% downside from current prices and shareholders suffer a major loss anyways bringing share holder losses to 95% over the past five years. In an all-stock deal, shareholders would have to hope for a miracle to recoup that money.
So, what's a fair price for Credit Suisse? At the end of 2022, the fair value according to the 2022 annual report is 11.45 CFH or $12.40. Finbox puts the fair value on $3.04. If you incorporate the 50 billion CFH or $54 billion borrowed from the Swiss National bank, the complete 45.1 billion CFH shareholder value gets wiped out. So, I leave it up to you to decide what the stock is worth but it seems that even at times were an intense focus on saving the company and turning it around is required, Credit Suisse is a step behind. Moreover, UBS lowballing the offer shows how much risk is infused in Credit Suisse.
Conclusion: Credit Suisse Is A Strong Sell Now
It does seem that to reassure client confidence in Credit Suisse, the company now can only consider being taken over by a party for the simple reason that it really did mess up its public responses over the past few days. We might see some investors cheering for Credit Suisse refusing the offer from UBS, but all I can say is that it's lacking a sense of reality altogether and the UBS offer reflects that no party really wants to touch this company unless the price is low… extremely low. So, I don't see how shareholder can win from the current situation with the current management and I would expect UBS to follow up with an offer that's better but still implies heavy shareholder losses.