[ad_1]

Looking around Gloria Molina's home, you wouldn't know she was one of the most consequential politicians in Los Angeles history.
The outside is tía chic: purple hearts at the teal front gate, baby angel statues near the swimming pool, potted flowers throughout the front yard.
A giant glass cabinet filled with quilts Molina has, well, quilted, occupies most of one wall of her small living room. A black-and-white photo of a 1991 swearing-in ceremony, when she made history by becoming the first Latina on the L.A. County Board of Supervisors, is lost in a sea of family portraits and Chicano art.
What grabbed my attention when I stopped by recently was a painting of Molina and her daughter Valentina propped up on the floor.
"It was from one of those stands there at Self-Help [Graphics]," Molina said when I asked about it. "Was done in 10 minutes."
"That's very accurate!" replied her longtime chief of staff, Alma Martinez, who reclined on a couch while Molina sat bundled up in a wheelchair, a strand of hair dyed purple peeking out of a purple flapper-style chemo cap.
Molina continued, "And Valentina goes, 'Man, we're ugly.'"
Valentina rolled her eyes. Martinez's jaw dropped. I chuckled. Molina didn't miss a beat.
"I said, 'I think we're real.'"
Molina, 74, has held court here in Mt. Washington with some of the most powerful people in town ever since her announcement a week and a half ago that she was dying from cancer.
Mayor Karen Bass called. Former Mayor Antonio Villaraigosa and former state Assembly Speaker Fabian Núñez stopped by. So did current Supervisor Kathryn Barger. Zev Yaroslavsky, who served with Molina on the City Council and Board of Supervisors for nearly a quarter-century, gave her a bottle of kosher vodka. Lifelong friends are traveling from across the country to spend one final afternoon with her.
"First of all, they apologize that they didn't know, and I said, 'Oh, you don't need to do that,'" Molina said, when I asked what her visitors wanted to talk about. "I'm pretty happy [with] where I am and what I did. And you know, that part is over. And then I thanked them for what our relationship was."
Even former rivals have paid their respects, including Lou Moret, a member of the Eastside machine that long clashed with Molina because she kept running against their favored candidates — and beating them.
"He's always told me that I've been independent and strong, and nobody else could've done it but me," Molina said. "And now, of course, he says, 'It's a good thing [you ran]. You served with the kind of dignity we needed.' And he was no longer intimidated by anything I have said or done."
Molina accepted my interview request after I wrote a column praising her as a chingona — a badass woman. I had half an hour for our chat, with a hard out: whenever her toddler grandson, Santiago, showed up.
The Molina I spoke to is the Molina you remember: feisty, indomitable, funny. Her voice and spirit remain strong. Her memory is impeccable. Why, she even threw a jab at our coverage, as she has done to any Times reporter within her eyesight over the last quarter-century.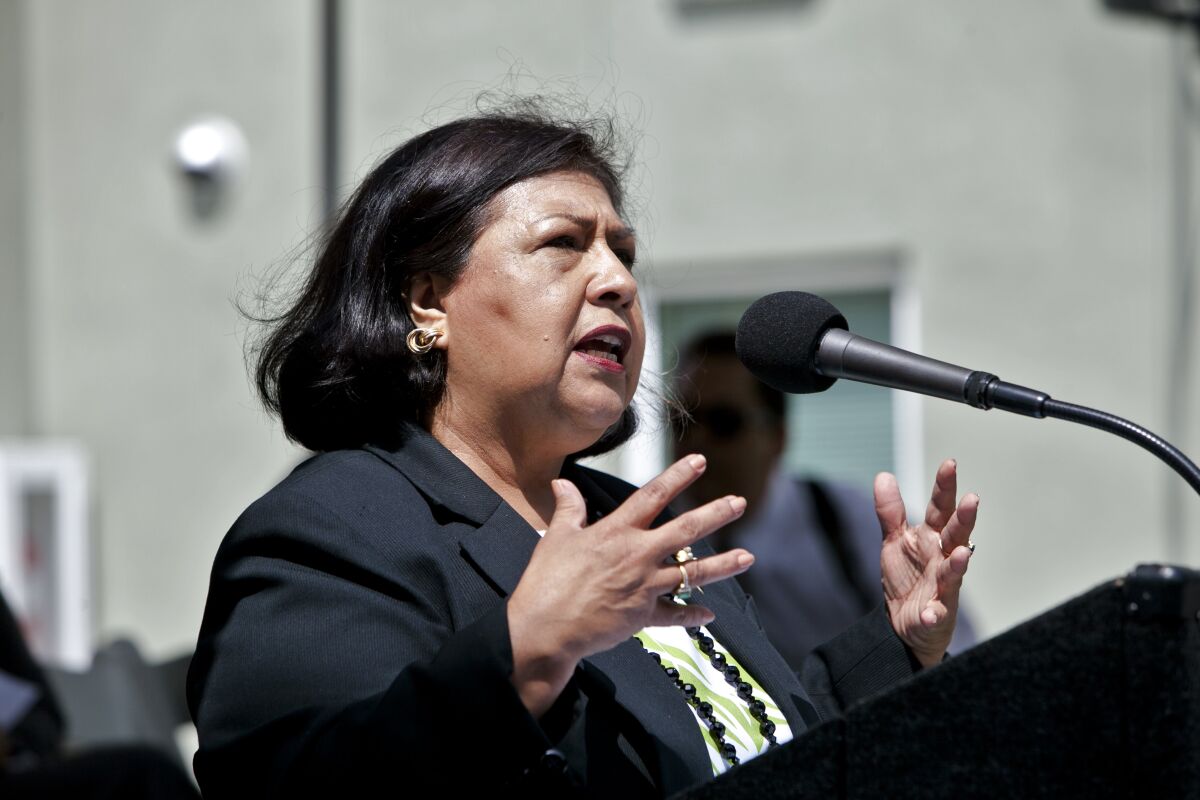 I told Molina I knew the details of her career — first Latina in the state Legislature, the L.A. City Council and the Board of Supervisors, fierce defender of her constituents, a champion of women in politics. There was one thing I still didn't get: Why?
"Because I had to," she replied plainly. "If you were a Chicana in the Chicano movement, things had to change. And the guys were still very sexist. So, very frankly, we had to push and push."
She talked about how, whether she was a student activist in the late 1960s and 1970s, a legislative assistant in Sacramento or working for the Carter administration in Washington, D.C., men kept dismissing the contributions of her and other women.
"We did everything from mimeograph to walk door to door," Molina said. "So I thought it would be respected, and unfortunately, it was not. The guys don't go looking for a woman [to enter politics]. And that's OK, because the women look for women."
I brought up her first campaign, a 1982 run for the Assembly in which she defied two Eastside assemblymen: her former boss, Art Torres, and her ally, Richard Alatorre. She ran against their chosen candidate, Richard Polanco — and won.
One of the first people she approached was Rep. Maxine Waters (D-Los Angeles), who was also an Assembly member back then and had worked alongside Molina during the 1970s in their effort to boost more women of color. Waters gave Molina her first big donation of $5,000.
"And she said, 'You got to be sure — gonna be tough,'" Molina said. "And I was sure. I had to open the door. That was my responsibility. That was my duty."
So what does she think about L.A. politics right now?
"Uck," she said.
Uck, indeed.
Her fellow former supervisor Mark Ridley-Thomas is awaiting a jury verdict in a corruption trial. Ex-Councilmember Jose Huizar, against whom Molina unsuccessfully ran in 2015, pleaded guilty to bribery in January. City Hall is still dealing with the aftermath of a leaked tape in which some of the most powerful politicos in Los Angeles made all sorts of nasty and racist remarks against basically everyone.
"Very frankly, I'm still disappointed in the corruption," Molina continued. "I'm still disappointed in the lobbyists. I'm still disappointed in politicians. It's not that hard to say no, but I'm a good example of someone who said no."
Why does she think more politicians don't say no?
"Because! They get money!" Molina snapped. "Election time: Call up a couple of people, and you get what your budget is!"
L.A. politics reminded her of how her grandmother described politics in Mexico.
"She could hardly wait for elections, because she'd get a bag of beans and a bag of rice. And I said, 'But abuelita, you shouldn't take it. And she goes, 'Why not? Everybody takes it.'
"So when I walked around, I found the same thing," Molina continued, now referencing her campaign against Huizar. "'Oh, he gives our senior citizens a television every year so we can raffle it off and make some money. Oh, he gives us this every single year. … Oh, le dió mijo un trabajo [he gave my son a job].'"
She could've just as easily been referring to Huizar's successor, Kevin de León, who keeps posting videos of himself on Instagram handing out goodies to constituents. He was one of the people speaking on the City Hall tape leak and has ignored calls to resign.
"So it's hard to fight against those kinds of things," Molina concluded. "Corruption works, unfortunately."
Is there anything that gives her hope, politically?
"I certainly would like to get more women in the process," she replied. "There's something about women. They're just a little bit more honest. … But there's no easy solutions. Everybody has to roll up their sleeves."
What about the new generation of Latino politicians, like City Councilmembers Eunisses Hernandez and Hugo Soto-Martinez, who are pushing the same populist policies Molina championed for so long, albeit with a more progressive slant?
"Great," she replied. "But if they're going to be same old, same old, who needs 'em?"
Martinez gave her a sip of water.
"So I'd like to challenge them to become more ethical," Molina continued. "I'd like to challenge them to become more concerned to what's going on in the community. We get told things that are not true, and there's so much power available that they should take advantage of it and challenge it."
I asked how she felt about a political world where L.A. County's supervisors are all women and Latinas represent the Eastside as a supervisor (Hilda Solis), an Assembly member (Wendy Carrillo) and a state senator ( María Elena Durazo).
"I am followed by unbelievable women," Molina said. "Some of them are not my first choice, but at the same time, they're powerful. And hopefully, they'll get the message that they can do things and that they don't have to accept what lobbyists say, and they don't have to accept what the guys say, but move forward."
I could tell Molina was tiring, so I wrapped up by asking if she had made a difference.
"Oh, I think so," she said. "And I don't want to take a bow for it — that's not necessary."
"Hold on," Martinez interrupted. "What about your family?"
Molina beamed. "Aren't I lucky?" She raved about her grandson, then looked at Valentina, who's expecting a baby girl. "I'm so proud of my daughter. Thank you, mija."
"Yeah," Valentina said softly.
"I am one of the most fortunate women there is," Molina continued. "Even with this cancer, it's sort of an opportunity. It was sort of, I don't know, planned I could talk to people. … It's amazing, right?"
"A lot of what people are telling me, Gloria, is that you have brought grace to the ending of life," Martinez told her.
"Really?"
"Yeah. That you were able to just give dignity to something that's very hard for people."
"Yeah."
"You were a lot of firsts in everything, even to the end."
Suddenly the front door squeaked open and a squealing little boy came in. "Hey, mijo!" Molina said. "Say hi!"
Valentina placed Santiago on Molina's lap, but he became fussy.
"¿Por qué vas a llorar?" Molina chided, the way only a grandmother could. Why are you going to cry? I got flashbacks of the Molina whose scoldings of political incompetents made her feared and loathed. She then repeated herself, this time in a softer tone.
"It takes him a while to warm up," Molina said apologetically. "He's had to be around a lot of people. A lot of strangers, lately."
She hopes to make one final quilt for Valentina, filled with Frida Kahlo quotes. She's recording messages for Santiago and his future sister. She was taking painting classes, but her hands are beginning to weaken.
Molina asked if I had any children of my own. I don't.
"They are so beautiful. And they are so wonderful."
She paused.
"We're having another. Hopefully, I'll be here for that."
[ad_2]

Source link