The San Francisco and San Jose metropolitan areas and some surrounding counties make up the Greater Silicon Valley. (File image)
These aren't the best of times in Greater Silicon Valley — the San Francisco and San Jose metropolitan areas and some surrounding counties. Large employers in what locals call the Bay Area have been laying off workers left and right. The region's second- and third-largest banks, First Republic Bank and Silicon Valley Bank, have failed. San Francisco's downtown, booming before COVID-19, is now one of the nation's most troubled. Home prices are falling. The population of the region's six core counties has declined by an estimated 234,697 people, or 3.5 percent, since April 2020.
Silicon Valley has been through deep cyclical downturns before, and critics have been predicting its downfall for decades, to no avail. But the remote-work revolution unleashed by the pandemic has emboldened the detractors and made their claims seem more plausible. The area's economic edge is its unparalleled ecosystem of entrepreneurs, venture capitalists and others who specialise in helping innovative companies get started and grow. Could new ways of working and collaborating finally end that regional advantage?
One place to look for answers is in the venture capital statistics. The latest Venture Monitor report from PitchBook and the National Venture Capital Association does in fact show Greater Silicon Valley's share of the action to have fallen lately. No other region is close to challenging its dominance, though, and a longer view reveals the Bay Area's recent relative struggles to be far from unprecedented.
At least, that's my quick take on the data. The evidence is mixed and tentative enough that it seems as if it would be more informative simply to show a bunch of it. To start, here are the raw quarterly US venture investment numbers, broken out for the Bay Area and the three other top US destinations for venture investment — New York, Los Angeles and Boston.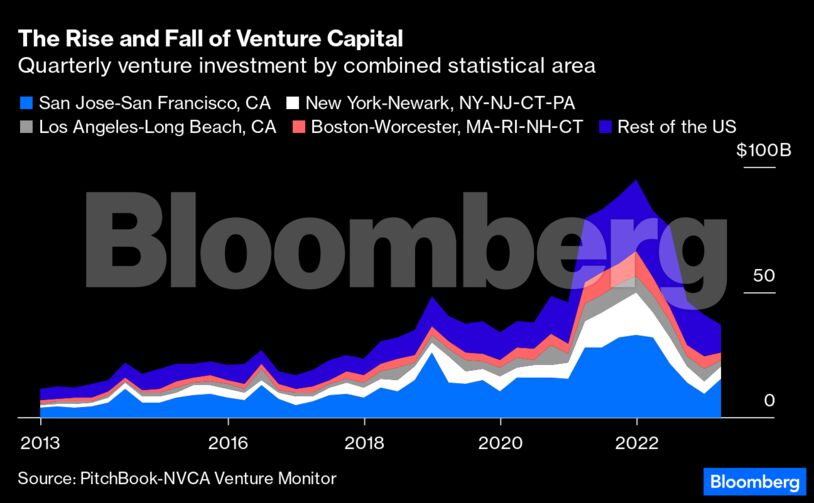 The quarterly investment flows are pretty lumpy, so to measure market share I'll use trailing-12-month data. Over the 12 months ending in March, 29.9 percent of US venture investment flowed to Greater Silicon Valley — down from more than 40 percent in 2018 and 2019. The combined share of the next three VC destinations held more or less steady, while the share for the rest of the US rose from 29.9 percent at the end of 2019 to 38.6 percent as of March. It looks a bit like the "rise of the rest" egged on by
venture capitalist and AOL co-founder Steve Case, only it's happening amid an overall collapse in VC investment that's probably not exactly what he had in mind.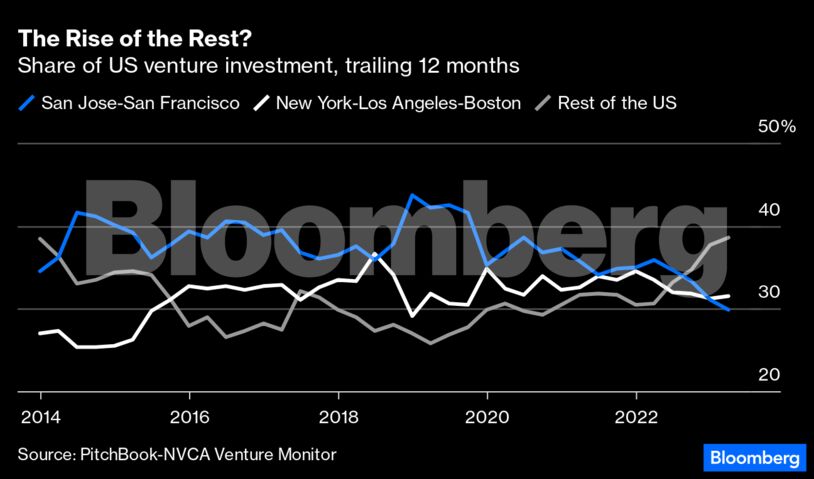 Break things down by how early or late in a company's development these venture investments were, as PitchBook did for me, and it turns out that Greater Silicon Valley's relative decline is entirely on the late end. Its share of angel and seed investment has held steady, and its share of early-stage funding is actually higher than before the pandemic.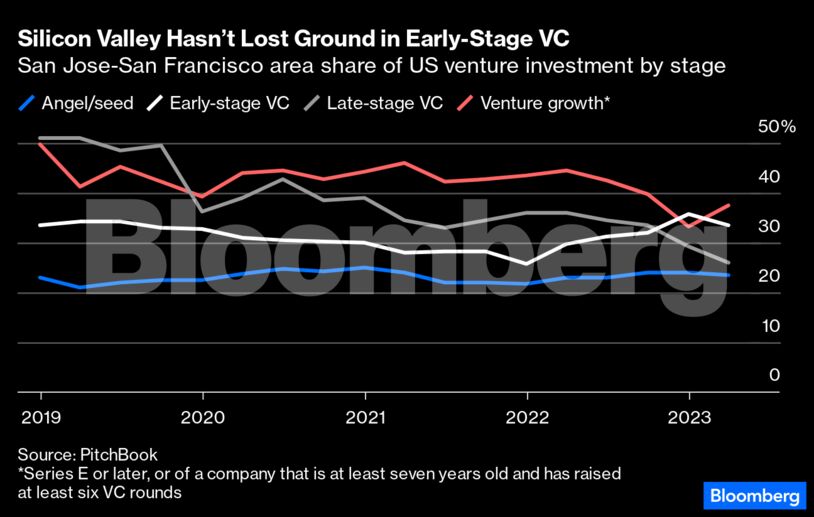 The national venture boom of the past few years was driven mainly by investments in relatively mature companies, with late-stage and venture growth (a new extra-late-stage category carved out by PitchBook late last year) accounting for 73 percent of the increase in investment between 2017 and 2021 and 79 percent of the decline since. Before the pandemic, close to half of this later-stage investment was going to Bay Area companies. Now less is. The money invested in angel, seed and early-stage rounds seems like a better gauge of the current health of the startup ecosystem, and there the Bay Area has experienced no such relative decline, although its share was smaller to begin with.
There's also been a drop in the share of venture capital fundraising going to Bay-Area-based VC firms during the pandemic — but they remain dominant, and the market share they lost went mainly to New York. There's still no other concentration of VC firms that comes anywhere close to those of Greater Silicon Valley, New York and Boston.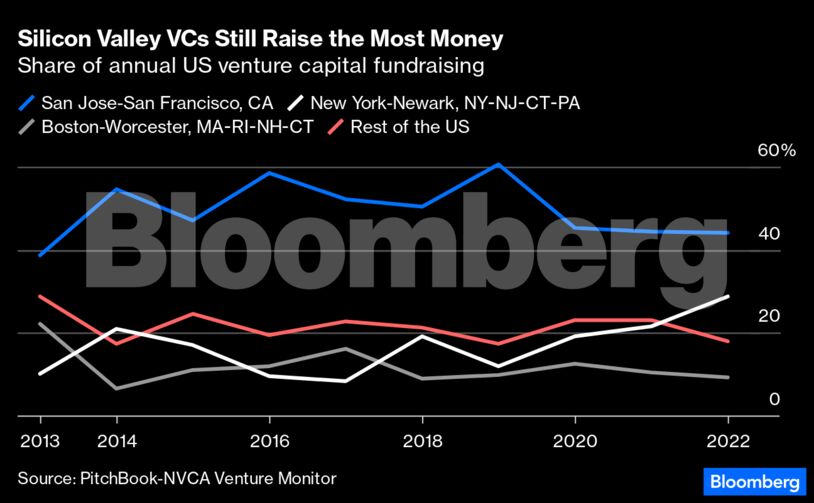 PitchBook and NVCA released only annual historical data on VC fundraising by region but did provide numbers for the first quarter of this year that showed the San Jose-San Francisco share dropping to 22.4 percent. I didn't include that in the chart because single-quarter data can be noisy, plus 16 percent of the quarter's funds were raised by Bain Capital Ventures, which is listed in the PitchBook data as being located in Boston because that's where its parent, Bain Capital, is based, but nine of its 12 partners are in the Bay Area.
It does seems plausible that, with Zoom meetings and widespread working from home, the location of VC firms might have less impact than it used to on where they invest. Over the past 12 months, companies based in 254 of 342 metropolitan areas in the US and Puerto Rico received some venture, seed or angel funding, according to PitchBook-NVCA, which is impressive. But only 35 metros got more than $500 million, and 87 percent of venture investment went to just 15 so-called combined statistical areas — adjacent metropolitan and micropolitan areas linked by commuting and other economic ties that I've used for all the regional charts here in part because it seems so silly to split Silicon Valley in two.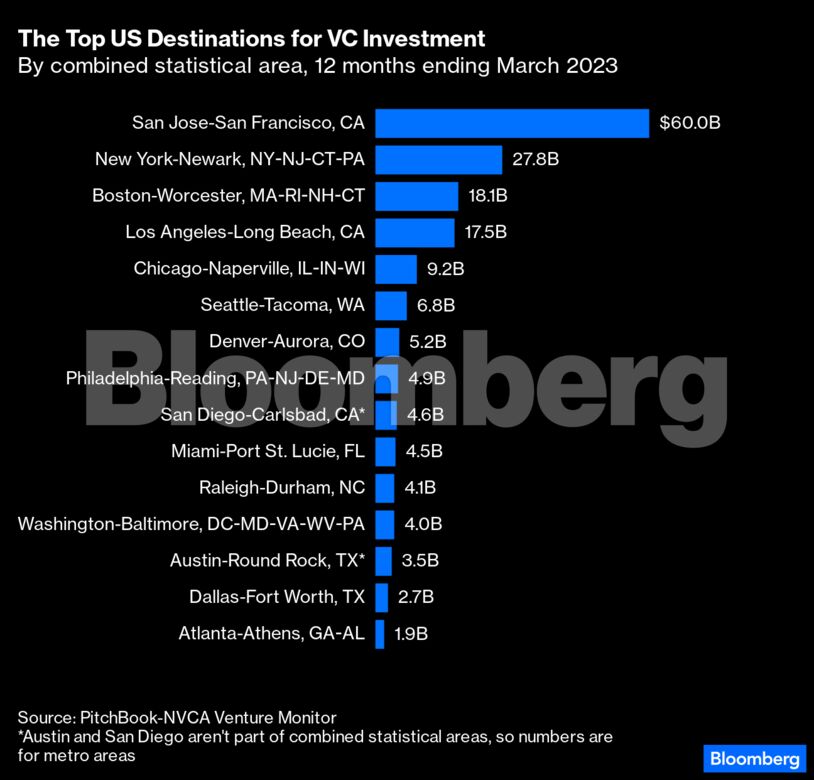 Even within this group, the gap between the Bay Area and everywhere else, and the top four and every region below them, remains quite large. That's not to say it can't disappear, but it is an indication that areas such as Austin and Miami that are seen as rising tech hotspots still have a long way to go. In fact, Austin's share of US venture investment didn't even rise over the course of the pandemic, and while Miami's did. it's falling now.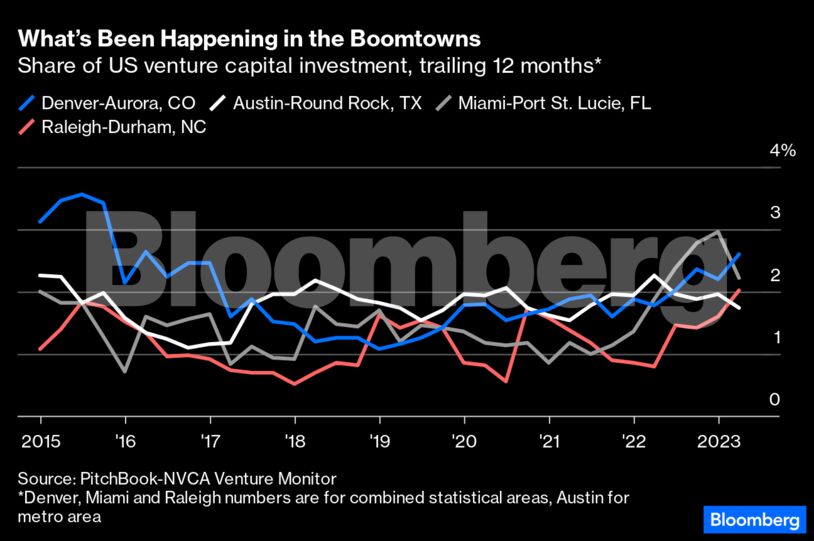 What about before the 2010s? PitchBook was founded in 2007, so there are limits to how far back its data can go. There was another series of quarterly venture investment statistics, the MoneyTree reports that PricewaterhouseCoopers prepared first in conjunction with the NVCA and later with CB Insights, that went back to 1995, but it has been discontinued. CB Insights is still releasing quarterly numbers, but they aren't compatible with the earlier series.
It would be great if the NVCA or some other organisation could pull together all this disparate data and resurrect the long-run series, but in the meantime I have a few MoneyTree spreadsheets from 2018 on my computer that enable a partial reconstruction. In the years that these overlap with the PitchBook-NVCA data, the numbers are different enough to inspire some trepidation about making before-and-after comparisons but not so different as to scare me away entirely. Here's total US venture investment since 1995, adjusted for inflation.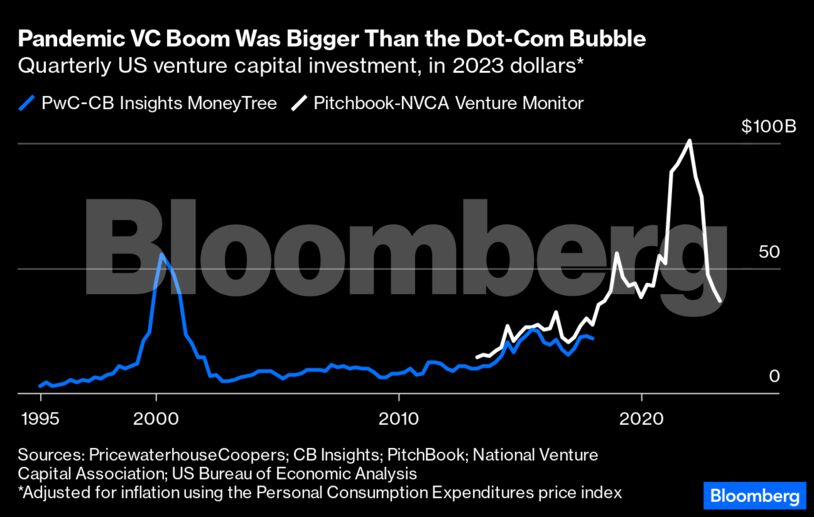 Even allowing for some inconsistency in measurement, the 2021 venture investment peak seems to have dwarfed the dot-com bubble of the late 1990s and early 2000s. That's partly just because companies stayed private much longer this time around, with late-stage investors from outside the traditional venture community playing the funding role that stock market investors did in the dot-com days.
The regions by which MoneyTree tracked investment were different and for the most part much larger than the metro areas and combined statistical areas that PitchBook-NVCA uses, making extensive comparisons with current data impossible. But the numbers for Greater Silicon Valley seem to be roughly comparable, and they indicate that from about 2008 through 2021 it received a much larger share of US venture investment than it had previously. Recent declines have just brought things back to the 1990s/2000s norm.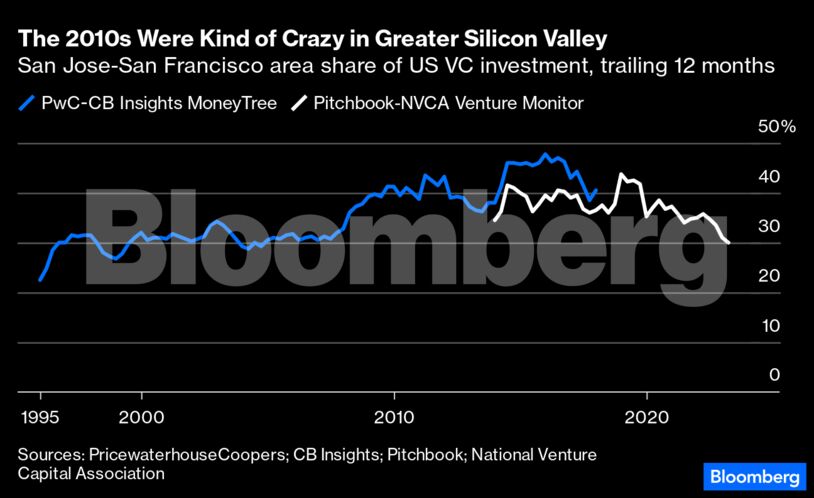 With data from a 2004 paper by Harvard Business School's Paul Gompers, I was able to extend this back even further, albeit only for multiyear periods and California as a whole. This view reinforces how anomalous the 2010s were and how high California's market share remains, but it also shows that if the 2020s decline holds up, it will mark the first fall since the 1970s in the state's share of US venture investment. Overall that seems like a healthy development — having the majority of all US venture investment go to one state, as it did in the 2010s, seems inefficient and unsustainable.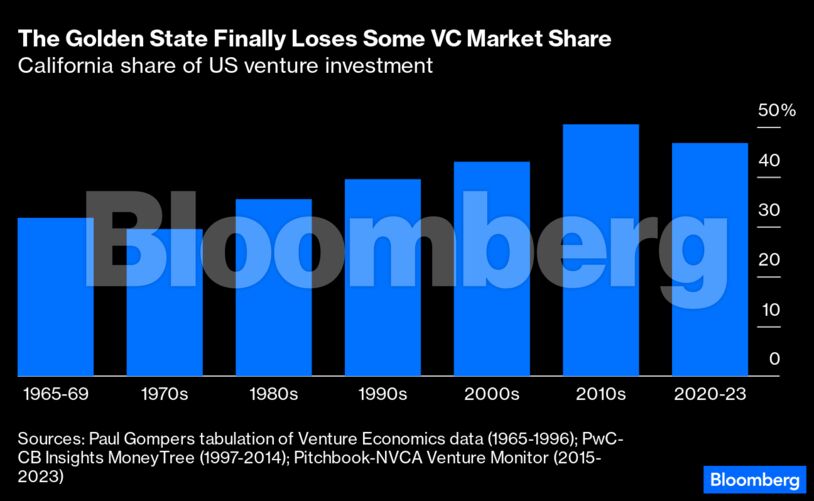 Predictions that some other state is about to wrest the tech-startup crown away from California, though, have a long history of not coming true. The state most frequently proclaimed as the new tech epicenter is probably Texas, and many Californians certainly have been moving there. But going by the venture capital data, the birthplace of Texas Instruments Inc., Electronic Data Systems, Compaq and Dell Technologies Inc. has actually lost significant ground as a tech launching pad since the 1970s and 1980s.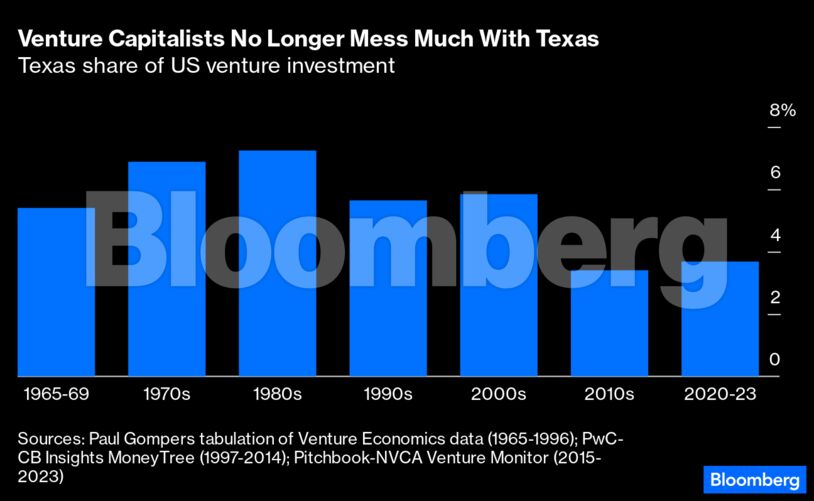 One region that has increased its share of the venture capital pie over the decades, going from also-ran to significant player, is New York City and its suburbs.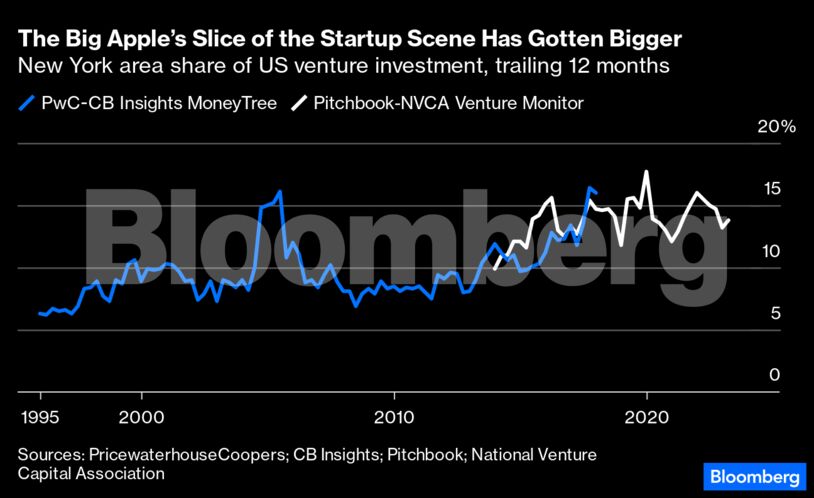 New York is the country's and to some extent the world's financial center. It is not some plucky upstart, and it's not a cheap place to live or start a business. But venture investment has tended to cluster in places with the infrastructure and critical mass of talent to support startups. Greater Silicon Valley, despite all its current problems, still has more of that than anyplace else in the US. Will such local factors matter less in the future? Maybe. Can Silicon Valley maintain its dominance forever? Surely not. It isn't dead yet, though.
Justin Fox is a Bloomberg Opinion columnist covering business. Views are personal and do not represent the stand of this publication.
Credit: Bloomberg