[ad_1]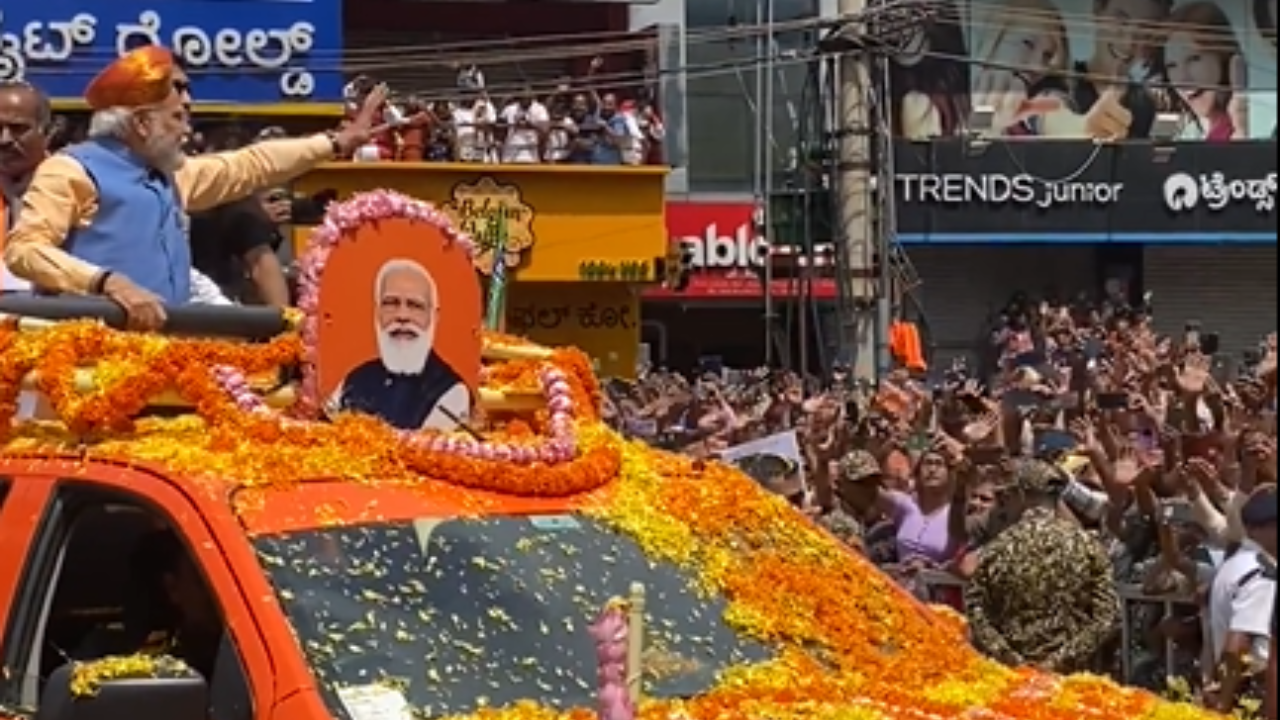 BENGALURU: Ahead of PM Modi's mega roadshow in Bengaluru on Saturday, Congress leader Jairam Ramesh alleged that the Bharatiya Janata Party is "locking up" the entire city and creating "chaos and uncertainty" for students.
The Prime Minister is set to hold a nearly 36.6-km roadshow in Bengaluru on Saturday covering 17 assembly constituencies of the city, in the last leg of the campaigning for the May 10 Karnataka Assembly polls.
Taking to Twitter, Jairam alleged that PM Modi will "stay silent" on the real issues in the poll-bound state including price rise and unemployment.
"The Master Of Distortion & Incitement ('Abuse' No. 92??) is arriving in Bengaluru today. We already know what he'll say to inflame prejudice & bigotry. He will of course stay absolutely silent on the real issues of Karnataka – 40% Commission Sarkara, Intolerable Price Rise, Rising Unemployment, A forever under-construction & dug-up Bengaluru," the Congress leader tweeted.
"This time the despair is so high that his #40km40percent roadshow over 2 days is locking up an entire city, creating chaos & uncertainty for students writing crucial exams, and felling a number of trees… Have you ever seen a PM this desperate?" he added in the tweet.
BJP MP for Bengaluru South Lok Sabha seat, Tejasvi Surya on May 5 said that the Prime Minister has directed the BJP to prepone the 26 km road show to the May 6 and shorten the roadshow distance on May 7 to conclude before 11.30 am keeping the National Eligibility and Entrance Test (NEET) examinations in view slated at 2 pm on Sunday.
"On account of NEET exams on 7th of May, Hon. PM Sri @narendramodi Ji directed us to prepone the 26 km road show to the 6th of May and shorten the roadshow distance on 7th to conclude it before 1130 am. His one line directive was – 'I don't want even a single medical student in Bengaluru to be inconvenienced'. Proud to belong to a political party that is so sensitive & responsible to our students," Surya tweeted.
PM Modi will carry out a 36.6-km roadshow in Bengaluru on Saturday covering 17 assembly constituencies of the city, said sources. Over 10 lakh people are expected to take part.
Sources added that PM Modi will take out two mega road shows and four public meetings this weekend.
The first roadshow will cover about 8 km while the other will cover a distance of 36.6 km, they said.
On May 7, PM Modi will also address four public meetings in different parts of the state.
PM Modi is also expected to visit Karnataka on the last day of the election campaigning for which preparations are already on.
Prior to this, PM Modi took out a roadshow of 5 kilometres in Bengaluru, and a roadshow in Mysore, with participation from a large number of people.
Even during the Gujarat elections, Prime Minister took out a roadshow of more than 25 kilometres covering 19 assembly constituencies of Ahmedabad.
Earlier, on Tuesday, Prime Minister held a mega roadshow in Kalaburagi.
During the roadshow, people queued up on both sides of the road through which the Prime Minister's cavalcade passed and cheered for him.
They also showered flower petals on him. While riding on the top of a truck, PM Modi greeted people by waving his hands.
The BJP is eyeing a second term in the state and has exuded confidence in retaining power with a full majority.
Karnataka will go to polls on May 10 and the votes will be counted on May 13.


[ad_2]

Source link